Weekend in West Virginia
Originally published: 2012-05-27
Last updated: 2012-05-27
My friend Barry and I try to get together each year for a long weekend of motorcycles, bourbon, and cigars. He lives outside of Cincinnati, I live in Philadelphia, so West Virginia makes for a convenient meeting point.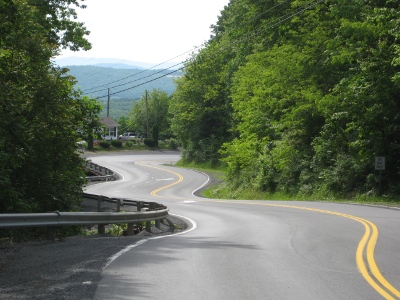 Which is a Good Thing, because West Virginia is one of the best motorcycling states that I know. The terrain is a jumble of hills and small mountains, and the roads run around, over, and occasionally through them. The pavement conditions are generally superb, the speed limit outside of towns is 55, and there are frequent passing zones (some starting halfway through a blind corner). Even better, RVs and LEOs are rarely seen — for that matter, other traffic of any kind is rarely seen.
Friday
This year we decided to meet in Lewisburg, in the bottom part of the state, so my Friday morning started with 250 miles of interstate highway. While there are good ways to get out of eastern Pennsylvania, they would have added miles and hours to an already long day. So I opted for the Pennsylvania Turnpike to Harrisburg PA, then I-81 to Strasburg VA before getting onto secondary roads.
I-81 through Pennsylvania might just be my least-favorite road of all time: it's filled with truckers that pull into the passing lane with little warning, then sit there for miles, slowly inching ahead of the traffic in the right lane. The closest I ever came to dying on a motorcycle was in Scranton, on I-81, and involved the wheels of a truck on my right and a jersey barrier on my left.
Four hours of which made Old Town Winchester, limited to pedestrians, a welcome relief. I picked one of the cafes for lunch, ordered bratwurst over sauerkraut (forgoing a beer), and was back on the road shortly after 1 PM. Another 15 minutes of I-81 brought me to Strasburg and US-48/VA-55. Which was where the fun part of the trip began.
WV-55 zigs and zags generally southwest, often paired with other highways: US-48 from Strasburg VA to Moorefield WV, US-220 for a short stretch out of Moorefield, US-33 from Seneca Rocks to Elkins, and US-219 from there until Hillsboro. For most of this time it's a two-lane road, but there are two stretches where it suddenly opens up to a four-lane divided highway with a 65mph limit. You can thank Senator Robert C. Byrd for this: as the longest-serving US senator at the time of his death, and frequent head of the Senate Appropriations Committee, there are a lot of West Virginia roads and buildings named after him.
Even though WV-55 is officially a multi-lane highway, the old road still exists. I missed the first few exits, but saw the third in enough time to slow down and cross the divider. It adds time to the trip, but is much more peaceful — even though the high-speed highway was almost empty.
On long riding days, I like to stop mid-afternoon for ice cream: it's a nice break, and I can usually use the sugar boost. This afternoon, in one small town after another, I looked in vain for an ice cream shop (Dairy Queen doesn't count). I was reminded of another West Virginia ride years ago, when I spent the night at a highway motel and opted not to eat breakfast at a nearby chain restaurant, instead looking for "some place the locals go." After a hundred miles, it sank in: in West Virginia, "the locals" eat breakfast at home.
As 5 PM approached, I saw a sign for downtown Marlinton, and on a whim followed it. And there I found the Dirt Bean Cafe, a combination espresso bar and bicycle shop. They also make milkshakes, and I soon had a chocolate shake with a shot of espresso, waking me up for the remaining miles.
South of Marlinton, WV-55 and US-219 part company: 55 turns west while 219 continues south to Lewisburg. Just after 6 PM, with exactly 475 miles on the day, I pulled up in front of the Lewisburg Inn to find Barry unpacking his bike; he'd arrived only a few minutes earlier. We checked in, took the bottle of Woodford Reserve single-barrel bourbon that had been carefully packed in my saddlebag, and sat in the inn's garden to toast the day.
Saturday
Saturday morning we awoke to the sound of gunfire. OK, that's not true: the gunfire didn't start until later in the day. It was 150 years ago that the citizens of Lewisburg awoke to gunfire, and this weekend was the reenactment of that battle. The original battle was a relatively minor skirmish between relatively minor colonels; the reenactment, however, featured Grant and Lee and an assortment of their lieutenants.
The encampment opened to the general public at 9 AM. We walked through, talked with the reenactors, and poked our heads into the vendor tents. It's a bit of a shock, seeing Union soldiers perusing made-in-China historical toys with a rack of Confederate uniforms in the background.
We missed Saturday's scheduled 2PM skirmish, instead heading north on US-219. Lunch was an acceptable burger at a golf course restaurant in the Snowshoe resort — it was the only thing open. Then we followed WV-66 ("Thorny Flat Road") east to the Cass Schenic Railway. Cass is an old logging company town, and the railroad was built to haul wood out of the mountains. On this day the train was nowhere to be seen: the season hadn't officially opened yet, but a group of railfans had chartered it for the day. Nor were the museum buildings open, so we got back on the bikes and continued east.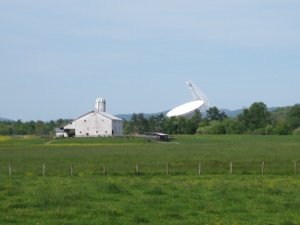 Next stop was the Green Bank radio observatory, home of the Robert C. Byrd Green Bank Telescope. The observatory has a nice visitor center, and you can take a bus tour around the various telescopes (there are close to a dozen). Before the tour you get a short video and lecture, during which you see just how much RF interference a digital camera creates (all electronics must be switched off on the bus). You'll also learn about the National Radio Quiet Zone, a 13,000 square mile area along the border of Virginia and West Virginia with restrictions on RF emissions that get ever-stricter as you get closer to the telescope. Within a few miles of the observatory you can't have cordless phones, microwave ovens, or wifi routers, and the observatory has a truck outfitted to track down violators. Our tour guide, who I suspect is a post-doc, was filled with heartwarming stories of "violators," including a dog blanket with an arcing thermostat. Coincidentally, CBS Sunday Morning ran a story on the observatory and quiet zone the day after we went there (I have no idea how long that link will be live, and be warned that it starts with an ad).
We got back on the road shortly after 5, and followed WV-92 south to White Sulphur Springs, before turning west on US-60 to Lewisburg. White Sulphur Springs is the home of the Greenbriar Resort, built as a vacation retreat for wealthy patrons of the Chesapeake and Ohio railroad. In the 1950s, it gained an underground bunker to house Congress in the event of a nuclear war. We passed by, returning to Lewisburg as the sun was going down behind the mountains.
After another bourbon in the inn's garden, we walked down to the Stardust Cafe for dinner. The menu is straightforward, but the preparation is good, and two of the three beer taps had IPAs.
Sunday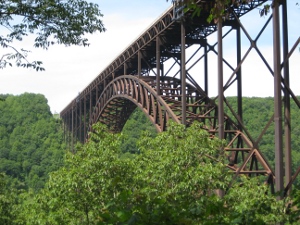 The main event of the battle reenactment was scheduled for Sunday, but again we headed out of town. This time the direction was west, along US-60, also known as the Midland Trail. After about 60 miles of hills and vales, we met up with US-19, just north of the New River Gorge bridge, one of the longest steel arch bridges in the world, carrying four lanes of traffic over the New River 900 feet below. This section of US-19 is, you guessed it, part of the Robert C. Byrd Appalachian Highway System.
There's a nice visitor center on the north rim of the gorge, with two observation decks. But to truly experience the bridge you should pass underneath it on the old river-level crossing. To get there, you descend the wall of the gorge on a single-lane road via a series of switchbacks. The road is signed as "unsuitable for large vehicles," and I would not want to be the driver of an RV who ignored that sign — the descent would end, expensively, at the first turn. The sign apparently doesn't apply to whitewater rafting companies from taking small busses down to the river to pick up rafters at the end of their trip.
Our next stop was the Beckley Exhibition Coal Mine, just outside downtown Beckley WV. There are two parts to the exhibition: the first is a collection of buildings, ranging from a one room "bachelor's shanty" to a church, that were relocated from abandoned coal towns throughout the region. The second part is the mine tour, conducted by a retired miner.
The tour only goes a short way into the mine, which stretches for miles under the city. But it's enough: the "man car" used for the tour has padded seats, but you still feel every bump in the rickety track that it rides on, along with every drop of water oozing from the low ceiling. Entering back into the light, all I could think is how lucky I was to be born in the place and time that I was, and not spending my days hunched over in a three foot high shaft, digging coal for 20¢ a ton.
We left Beckley on WV-3, picking up WV-12 outside of Hinton, and then WV-63 outside of Alderson. The route generally follows the New and Greenbrier rivers, and perhaps as a result the population density (and number of other cars on the road) is higher. It's not crowded by any means, just busier than we were used to. We arrived back in Lewisburg around 5, to find reenactment over and the town back in the modern age. Even one of the generals staying at the inn was dressed in civilian clothes.
We made a last visit to the inn's garden and finished off the bottle of bourbon. Then we walked a block down the hill to the Livery Tavern, in the building that formerly housed Julians (which is the restaurant you'll see on Google). The Livery Tavern is a completely new restaurant, focused on local ingredients, and the chef is a BMW rider; what's not to like? I had osso bucco, Barry had a veal chop, and both were great. I still lean toward the Stardust Cafe, based on their beer menu, but the food at the Livery Tavern is a definite step up.
Monday
I went to bed Sunday night after reading a disturbing weather forecast: a low was moving up the coast from South Carolina to the Mid-Atlantic, and a cold front was arriving from the west. "Showers" were all but guaranteed. However, Monday morning arrived with clear blue skies in Lewisburg, and I told myself that "as long as I stay west of the Blue Ridge I'll be fine." Some days, it's little lies like this that keep you going.
Barry and I ate breakfast, then headed out on US-60 in different directions: his west, mine east. A few miles out I passed the sign for Organ Cave, and remembered another trip, with my friend Ed, some 20 years ago. The signs for Organ Cave took us to the end of a dirt road, where two men in bib overalls sat on the porch of a dilapidated shack. Next to them was a bucket of rocks, with a hand-painted sign saying "Rocks $2." We looked at each other, and silently agreed "if you hear banjo music, get back on the bike and save yourself." It turned out to be a very pleasant tour, led by a knowledgeable and entertaining guide. The "organ" in the name refers to an area where stalactites have been tuned to produce music when struck with a solenoid-operated hammer (it would be illegal to do this today, but the cave tour has been around before the law).
In White Sulphur Springs I picked up WV-92 heading north. I was tempted to take the bunker tour, but it is by reservation only and I wanted to put in miles under the sunny sky. At WV-39 I turned right, and the road almost immediately became VA-39 as it dropped off the ridge. A dozen miles later I turned left on US-220, which was to be my path for the next 120 miles.
US-220 is a valley road, running through farms and woodlands; the tight turns of the mountains are replaced by sweepers that follow the terrain. Fourth gear and 3500 rpm kept me near the speed limit, and the bike all but rode itself. Meanwhile, I absorbed the scenery and pondered the clouds that were building over adjacent ridgelines.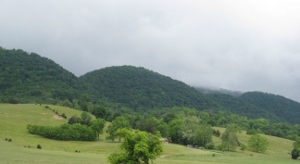 By noon the sky had become completely overcast, and when I stopped I could feel the moisture in the air. The cloud bases had descended to obscure the higher peaks, and I was glad to be down in the valley rather than up in the fog. An hour later I stopped for gas and decided to prepare for rain: phone, camera, and wallet into a zip-loc bag, me into the pants of my riding suit, and a little squeegee fitted over my left glove. The rain hit in Moorefield WV, but stopped quickly; for the next 50 miles or so it came and went, with the roads mostly dry.
At US-50 I turned east. US-50 is a great riding road in its own right, combining steep mountain passes with quiet farmland, but I was only on it for a few miles this day. Instead, I turned north onto WV-29, intending to pick up WV-9 just outside Paw Paw (home of the Paw Paw Tunnel) and take it to US-522 in Berkeley Springs.
However, I was seduced by a sign that indicated WV-127 would get me to US-522 in 11 miles. It was only later that I looked at the map and saw that it took me south before east; there's a moral in that somewhere. I arrived in Berkeley Springs, at the Earth Dog Cafe, just before 3:30. The Earth Dog is a reason for any trip to pass through Berkeley Springs. It's a barbecue restaurant. Real barbecue, not the pressure-cooked, artificially-smoked stuff that you get at a chain restaurant. Their brisket is respectable, but their pulled pork is second to none, and $9 buys you a platter with two sides that's lunch and dinner combined.
Another reason to visit Berkeley Springs are the warm springs (70°F) that give the town its name. At the state park, you can sign up (in advance) for a session in the Roman Bath: a private room that holds a large pool filled with heated spring water. Just the thing for loosening the muscles after a long day on the bike. But do it on an empty stomach.
From Berkeley Springs, US-522 took me 40 miles to the Pennsylvania Turnpike, where I turned east for the last stage of the trip. The rain held off for a while, but started in earnest after I emerged from the Blue Mountain tunnel into the flat farmland west of Carlisle. It was never torrential, and my riding suit kept me dry, but the spray reduced visibility to almost zero. Needing gas and a bio break, I pulled into the first rest area. Met another motorcyclist in the restroom, and we just shook our heads at each other. No matter how many miles you've endured in the rain, it's never easy or fun.
Fortunately, the rain ended shortly after I got back on the road, and the next hundred miles were relatively dry. I turned into my driveway at 6:30, after a little over 450 miles, threw my clothes into the washer, took a warm shower, and prepared for the return to work on Tuesday morning.
Copyright © Keith D Gregory, all rights reserved