Motorcycling in Southeast Pennsylvania
Originally published: 2008-06-16
Last updated: 2008-07-27
When I moved to the Philadelphia area, I asked several people at bike shops about where the best local riding was found. The general consensus was that there wasn't any — one bike shop owner went so far as to say "get on the Turnpike and ride two hours."
Sad to say, this fit pretty well with my preconceived notions, in which eastern Pennsylvania was an obstacle: something that I had to endure in order to get from Massachusetts to the Blue Ridge Parkway. Usually on a hot, humid July day, bumping over the expansion joints and pavement patches on I-78. With plenty of trucks for company.
Fortunately, my dislike of highways pushed me to take back roads to get to the "good riding." And I discovered that some of those back roads were pretty damned good on their own, winding through forests and farms that had not yet been converted to housing developments. In particular, I discovered the "northwest triangle": a pie-slice extending from Philadelphia out to Reading, then to Allentown. All within 60 miles of Center City, yet able to sustain repeated day trips.
This particular ride starts and ends at Valley Forge, and works its way along the triangle. Basic mileage is around 125, but there are enough side trips and stops along the way to extend that to 200 easily. Google won't give me a URL to embed the entire route, so I'll break it up into outbound and return legs.
You leave Valley Forge on PA-23, heading toward Phoenixville. This road runs through the park, and on a typical Sunday morning most of the traffic will be bicyclists. Now, before continuing, I should say that I own three bicycles and a unicycle, used to ride the 18 miles to work (until we moved to a building without a shower), and in my 20s would do group rides. But even though I was solidly in the "B" group, we would keep to a paceline. Today's riders, not so much. I don't know if it's the logical outcome of taking Philadelphia drivers and putting them on bicycles, or if their only exposure to group rides is televised footage from the Tour de France. If the latter, I have one thing to say: "closed course, professional riders." Oh, and they aren't riding four-across so that they can talk to each other!
On the other hand, bicycling's popularity has led to the creation of the state bicycle route system, and these routes are great for motorcyclists. They follow secondary roads through pleasant scenery, usually bypassing city centers and other congested areas. For the most part, they make for great motorcycling, but be prepared for surprises: the segment of route "L" south of Jim Thorpe, for example, turns into a dirt road heading up and over Blue Mountain! My wife wasn't too thrilled with that ride, and we left more than a few Appalachian Trail hikers shaking their heads in disbelief.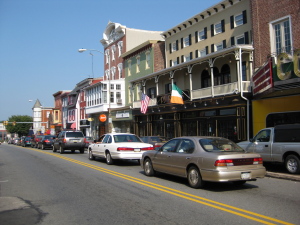 Phoenixville is one of these congested areas, and PA-23 runs right through it. If you haven't stopped for breakfast, by all means head into downtown: take the right turn marked "historic district." You'll find an assortment of coffee shops, cafes, and a great farmer's market on summer Saturdays. If you've already eaten, however, take a left turn on the light at Whitehorse Road, then another right onto Pothouse Road: bicycle route S. Follow this road all the way to PA-100, the Pottstown Pike.
PA-100 — at least in this section — is a road that you just want to ride over and over again. Well, I do. It's not long, only about 4 miles, but it follows the contour of the land, up and over hills and winding through valleys. At Ludwig's Corner you take a right turn onto PA-401, for another six miles of farms and forests until you hit PA-345 and make another right turn. At this point you're on bicycle route L, which goes north-south; the southern section is a great ride along the Brandywine river, but for this ride we go north.
PA-345 was one of the first back roads that I learned about, even before I moved here, when I went hiking in French Creek State Park. The road winds through the park, at times in a tunnel of trees. Just north of the park access road is Hopewell Furnace National Historic Site, a reconstructed colonial iron furnace. It's a great place to stop and stretch your legs, although there is an entrance fee (free if you have a park pass). As you walk into the cool darkness of the furnace building, you'll hear a quiet swishing and thumping; go deeper, and you'll see an enormous water wheel slowly turning and pumping bellows. Although the furnace hasn't been used in over a hundred years, the Park Service occasionally does a demonstration of sand casting with tin. You have to imagine the stream of molten iron, flowing from the furnace through channels into the sand floor and into the molds.
Coming out of the hills, you end up in Birdsboro, and turn right onto PA-724. You can also avoid Birdsboro by an early right turn at Center Road, although the road surface isn't so great. Travel a short distance east, then follow Bicycle Route L across the Schuylkill river and north to PA-562.
At this point you have a choice: if you turn left on 562, you'll end up in Reading. If it's lunchtime and not Sunday, it's hard to beat The Ugly Oyster, a pub that was transplanted from Yorkshire, right down to the four foot high urinal. Their mussels are worth the trip — just not on a Sunday, because they're closed (as I discovered the hard way).
Turn right on 562, you'll head into Boyertown. If it's early autumn and you have saddlebags, I recommend a stop at the Frecon Farms pick-your-own orchard. Follow 562 east until you see their farmstand (just outside Boyertown), and follow the signs to the orchard. One word of warning: they give you a half-bushel basket, which will keep you eating apples for weeks.
My recommendation, however, is to cross 562 and get lost on the roads northeast of Reading. This is some of the best riding that I know in this area: generally well-paved roads that lead between towns (or more often, churches). Almost no traffic, because the only people that take them are locals. Occasionally you'll pop up on a numbered route, but can turn left or right, and within a few miles be back on the quiet roads. And occasionally you'll be riding along, watching the scenery, and realize the pavement is at an end. It's easy to spend an afternoon here, in part because you're never really sure just how to get out — and mostly because you don't want to.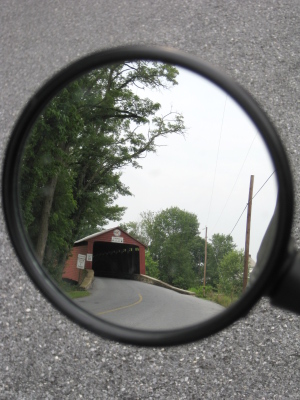 From here the route becomes a little tricky. I had originally written it such that you would pick up PA-73 and head back toward Valley Forge. Even had an anecdote about the Tacony-Palmyra Bridge signs that you start seeing about 75 miles from the actual bridge. And a note about the ice cream shop in Schwenksville. And these are all good things, but PA-73 just doesn't live up to the rest of the roads on this route. So if you have to get home, by all means take it; it's not a bad road. But if you still have a few hours for riding …
Head generally northeast, and sooner or later you'll end up on PA-100. You want to head toward the junction of PA-100 and PA-29 in Hereford. This may be north or south of where you find yourself; pay attention to signage. Work your way eastward — on Limeport Pike if you see it, although I think I've followed a different route each time. Eventually, you end up on Allentown road, which is more of the same: farms, small villages, trees. Sometimes you'll turn a corner and see an old churchyard filled with flowers. Other times you'll zoom past a meat packing plant. This road happens to be one of my favorite ways to avoid I-476 on longer trips: generally I find myself in the Allentown area about an hour before sunset, and have to make a choice. So far, the highway has never won.
If it's mid to late afternoon, it might be time for an ice cream break. Turn right on Sumneytown Pike for Freddy Hill Farm, where you'll find ice cream, mini golf, and a rotating milking shed. This last is worth the trip, at least if you arrive at milking time: cows come in through a turnstile, get hooked up to the machinery, and the floor slowly rotates until they're done. At which point they're unhooked and go out another turnstile. It looks like something from Wallace and Gromit.
The last leg of this loop is a mixed review. We're back in the land of subdivisions and traffic, and there aren't many good choices. I've shown a route that picks up PA-363 and follows it almost all the way to Valley Forge (probably why it's named "Valley Forge Road"). Since I'm actually heading to Mt Airy, I take Allentown Road to Sumneytown Pike, and then a a few more zigs and zags that avoid most of the town centers along the way.
Copyright © Keith D Gregory, all rights reserved