Ancho-Lime Grilled Salmon
Originally published: 2011-05-01
Last updated: 2011-05-01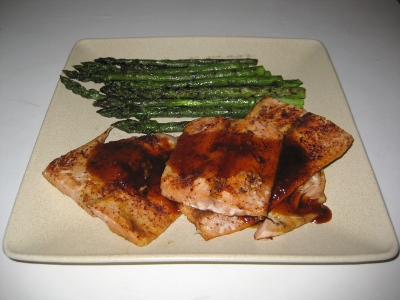 Spring is here, and the grill is getting out more often. I don't particularly like salmon, and my nephew is a "finicky eater," but we both agree on this recipe. It's easy and fast, although you have to start a few hours in advance.
Ingredients
Salmon filets, about a third of a pound per person. I happen to like Trader Joe's frozen wild-caught salmon, but fresh works as well.
Limes: 2-3, plus 1 per filet.
Ancho chili powder. "Ancho" is the name for a poblano pepper that's been dried and smoked. It's a very mild pepper, maybe a tiny bit more spicy than a bell pepper. If you want some more spice, mix with chipotle (dried smoked jalapeño). I think that straight chipotle overwhelms the other flavors.
Salt, a pinch (¼ teaspoon) or less per filet.
Olive oil, 1–2 teaspoons per filet.
Mango sauce (fresh mangos blended with a small amount of sugar), apricot jam, or marmalade, 1–2 tablespoons. I prefer the mango sauce because it's a tropical flavor that works well with lime. But if you don't have it, substitute a light jam or preserves (I wouln't use grape or strawberry).
Preparation
If using frozen filets, thaw them first (I use a water bath, which takes 15–30 minutes depending on water temperature and how often I change the water).
Place them in a glass baking dish, skin-side down.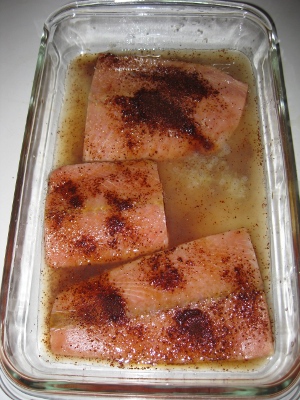 Sprinkle the filets with salt and chili powder, then drizzle with lime juice and oil. If this washes off the chili, add some more. I usually apply the chili with a tea strainer: tapping the strainer gives an even coating, and spreads the powder better.
Refrigerate for 1–4 hours.
Cooking
There are two steps to cooking: reducing the marinade and grilling the fish. The first step usually takes 15 minutes or so, the latter takes 5–8 minutes depending on the thickness of the fish. Unless you like excitement, I don't recommend doing both tasks at the same time; it's too easy to scorch the marinade. So light the grill, and reduce the marinade while it's heating.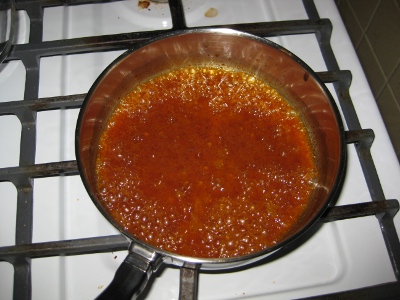 To reduce the marinade, pour it into a flat-bottom saucepan, add the mango sauce, and cook over medium heat, stirring frequently. Getting the right consistency on the sauce is a matter of practice. In general, when you've got a lot of small bubbles covering the surface, that don't go away when the pan is shaken, you're just about right.
The sauce will thicken as soon as it's off the heat, but you can thin it again with a short pass over the flame. So time to grill the fish.
I use a gas grill: preheat on high for 15 minutes, then reduce to medium (charcoal enthusiasts are on their own). Make sure that the grid is free of debris, and wipe it down with a paper towl soaked in vegetable oil (to keep from burning yourself, fold the paper towel several times and hold it with tongs).
Place the fish skin-side down, grill for about 4 minutes, then flip and grill for another 3-4 minutes. It's done when the fish easily separates with a fork.
Quickly reheat the sauce as you pull the salmon off the grill (it helps if you have a helper or a side-burner on the grill). Plate, and drizzle the sauce over the fish.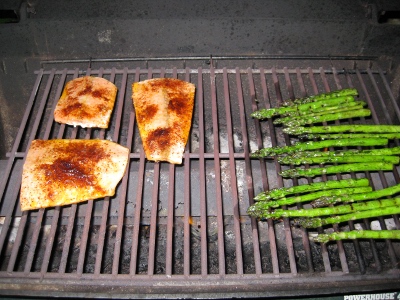 In the photo, I'm grilling some asparagus at the same time. To be honest, I don't think it's the best accompaniment for the salmon. Better would be a grilled summer squash, but the pictures show what's in season.